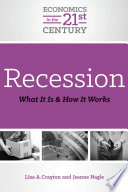 Recession : What It Is and How It Works.
Table of Contents:
Cover
Title Page
Copyright
Contents
Chapter 1: What is a Recession?
Chapter 2: What Causes Recession?
Chapter 3: Recession's Red Flags
Chapter 4: Recessions in the Real World
Chapter 5: Coping with Recession
Chapter 6: What's Next?
Timeline of US Recessions
Bibliographic Sources
Glossary
Further Reading
Index
Back Cover.