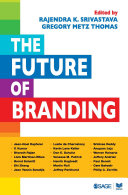 The future of branding
Podrobná bibliografie
Další autoři:
,
Typ dokumentu:

E-kniha

Jazyk:
angličtina
ISBN:
9789351503170
9351503178
9789351503163
935150316X
Rok:

New Delhi, India ; Thousand Oaks, California :

SAGE Publications,

2016.



Témata:
On-line přístup:
Plný text - nelze MVS
Informace o práci s e-knihami

Obsah:
Section I. Brand strategy. Selecting the brand architecture to match your strategy / Jean-Noël Kapferer
A strategic approach to grow profits : defining, measuring, and maximizing customer value / V. Kumar and Bharath Rajan
Branding in retail / Lluis Martinez-Ribes
Section II. Brand building. Brand identity : brand naming process and brand linguistics in the international context / Bernd Schmitt and Shi Zhang
The six-station model of corporate identity : developing and assessing the model / Jean Yannis Suvatjis and Leslie de Chernatony
Brand development processes and planning / Kevin Lane Keller
Managing the brand experience / Bernd Schmitt
Rethinking brand development in an interactive marketplace / Don E. Schultz
Luxury brands / Vanessa M. Patrick and Henrik Hagtvedt
The dynamics of brand trust / Gregory M. Thomas
Section III. Leveraging brands. Branding and emerging markets / Martin Roll
Opportunities and risks in co-branding and licensing / Jeffrey Parkhurst
Brand revitalization / Kevin Lane Keller
Brand identity strategy for mergers and acquisitions / Srinivas Reddy and Anupam Jaju
Section IV. Brand performance management. The great debate : managing brands versus managing customers / Werner Reinartz
Brand imperative : protecting your most valuable assets / Jeffery Andrien, Paul Benoit, and Philip C. Zerrillo
Hidden value of brands : brands in mergers and acquisitions / S. Cem Bahadir
Role of brands in managing innovation / Rajendra Srivastava.